Best Homemade Ketchup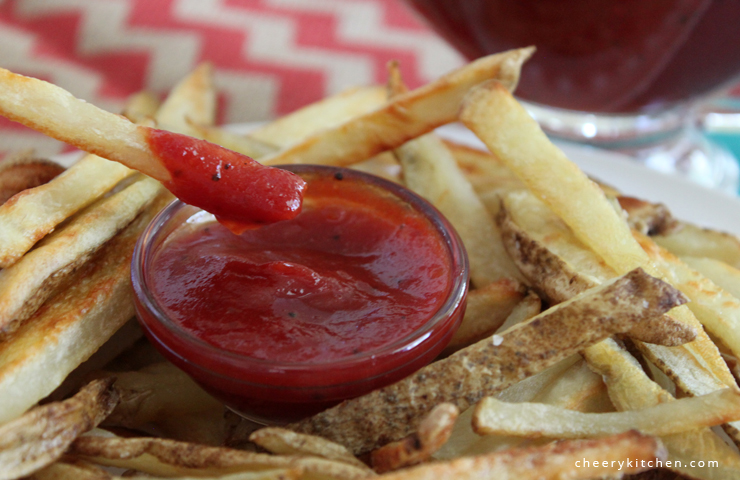 I shudder to think of how many gallons of ketchup my family's ingested through the years. Why, we could have bought a home on a lake instead.  How I wished I'd made my real, rich, thick, flavorful, Best Homemade Ketchup in big batches years ago!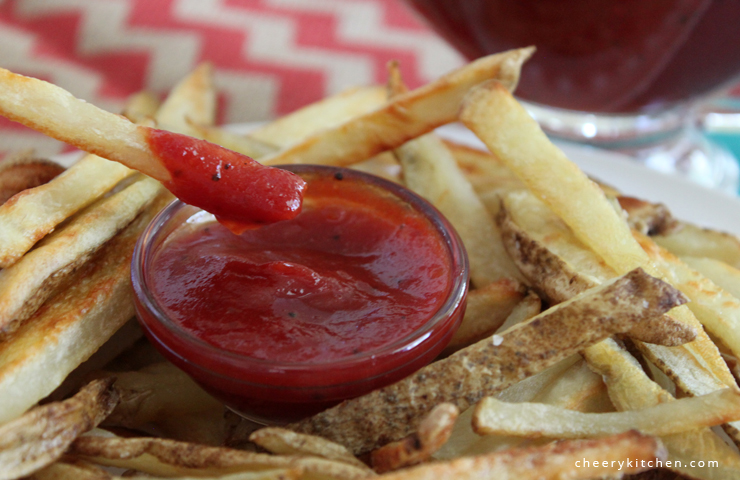 Honestly, I'm teasing, the saving wouldn't have provided a romantic cabin or anything, but I sure like making homemade deliciousness for my family minus high fructose corn syrup, plus more corn syrup, and "other natural flavors." What does that even mean?
Best Homemade Ketchup
This one's for my oldest son, Jeff.  When he was a toddler we could get him to eat anything if we added a little ketchup to it.  His love for the stuff blossomed and I found myself scolding him when he'd open the fridge door and pour some on his hand and then lick it off. He really couldn't help himself.  Now he's got 6 kids of his own.  Yep, they all love ketchup as much as their dad.  Recently for Christmas his Great-Grandmother-in-law,  gave them a case of ketchup.  So they are getting the first bottle of my ketchup with lots of love along with some hot and tasty oven fries!
Best Homemade Ketchup is an easy fix.  Just mix the vinegar, sugar, and salt together in a 3-quart saucepan and bring it to a boil. Whisk in the spices and then the tomato paste.  Simmer over low heat for at least 10 minutes, stirring it often.  You may want to simmer it for a little longer if you'd like it a little thicker.  Cool, add it to a squeeze bottle, and store in the refrigerator. There you go, no additives and truly all natural, and it tastes so amazingly good.
Here's your printable recipe.

Best Homemade Ketchup
Pure and natural, REAL, thick, rich, no high fructose corn syrup, or "other natural flavors," Best Homemade Ketchup is well worth a little effort. Your takers will be smitten with this amazing stuff after their first bite of burger, fries, yep, it's finger lickin' good. Consider adding different spices and making it your own. Enjoy!
Recipe type:
Condiment and Sauce
Ingredients
3 cups distilled vinegar
1 cup water
2-1/2 cups sugar
2 Tablespoons kosher salt
1 teaspoon smoked paprika
1 teaspoon ground pepper
½ tablespoons ground nutmeg
½ tablespoon garlic powder
1-1/2 tablespoons onion powder
3 cups tomato paste
Instructions
Bring vinegar, water, sugar and salt to a boil.
Whisk in spices. Once spices are mixed well, whisk in the tomato paste and bring to a simmer.
Simmer the ketchup for at least 10 minutes, over low heat and stir frequently, till your reach your desired thickness.
Cool, bottle, and keep refrigerated.
Notes
For 3 cups of tomato paste, you will need 4 (6-ounce) cans.
My next batch, I think I'm going to add a touch of yellow curry powder to it, and serve it with grilled bratwurst.  I love the idea of making creative ketchup, putting a little spin on it, and would appreciate hearing what you'd like to add to yours.  How would you make it your own, irresistible, even  finger lickin' good?
Thanks for visiting and pinning with me!
This site contains affiliate links, which means that I may get a commission if you decide to purchase anything from suggested companies. I recommend products that I use and love myself or that I think would be a helpful resource for you. Using these affiliate links to make your purchase helps to support Cheery Kitchen and my family. Thank you!