Bird's Nest Salad with Balsamic Vinaigrette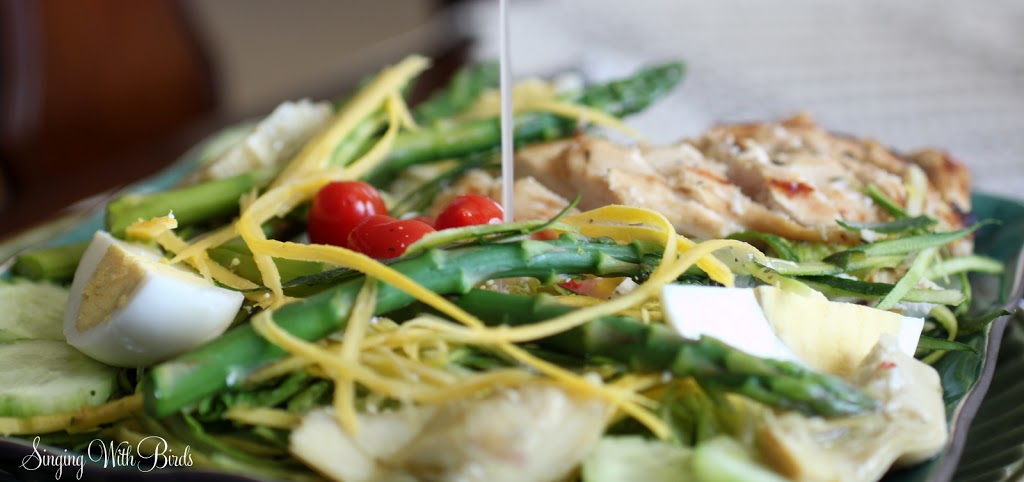 Spring salads make me sing!

Bird's Nest Salad with Balsamic Vinaigrette
My grandfather owned a produce business, supplying L.A. businesses for years.  I was raised by a mom who knew what to do with anything fresh.  I grew up loving fruits and veggies.  I gravitate to salads made with fresh herbs, artichoke hearts, fresh berries, bright red tomatoes and tasty cheeses.
Mom had a huge salad bowl that was always brimming full and she knew how to whip up a fresh and tasty vinaigrette.  I would say her favorite vinegar was red wine.  Although sweet and syrupy, I love balsamic, it's just not so tart.
  Dressing is essential to most salads.  Everyone needs a light, basic and easy to make homemade salad dressing.  Here are the  ingredients:
The ratio is one part vinegar (or other acid) to three parts oil. That is very convenient because it breaks down to one teaspoon to one tablespoon.

 The acid can be any vinegar (rice, balsamic, wine vinegar, lemon juice, etc.). The oil is most often a good extra virgin olive oil, but it might be grapeseed or canola (if I want to minimize it's flavor) or sesame, walnut or mayonnaise.

Add mustard (Dijon, yellow or any flavor) for pungency and to stabilize the mixture.

Usually I mix it in the bowl before adding salad ingredients. 
Also, some fun and easy tips to change a basic vinaigrette recipe up a bit:
Use stevia, (I prefer liquid stevia in dressings) sugar or pure maple syrup instead of honey

Use a flavored vinegar; tarragon, raspberry or red wine, champagne, rice wine or white wine vinegar instead of balsamic

Use a spicy or whole grain mustard instead of Dijon.

Garlic or not, it's your choice.

Add some fresh chopped green onion, dried onion or some Italian seasoning or any other herbs you like.

If you choose to use a juice, always use fresh; lemon, lime, or orange juice. 
So like me are you amazed that this is the last day of Spring?  We have been working in our yard, raking, planting fruit and shade trees and hanging feeders to bring in the birds.  One of my favorite things about our house is a small pond that is behind us and the birds and ducks like to congregate there, but I miss seeing them close-up.  So in their honor, and the fact that it took removing 3 nests from our front porch, (birdie behavior modification), "hey flying friends, we'd like you to move to the backyard, please."  Finally they complied and we are now observing new baby birds!
Here's an easy composed salad, my ode to Spring….Bird's Nest Salad with Balsamic Vinaigrette.


I found this little julienne tool and pulled it down the sides of yellow and green zucchini

…
creating yellow and green julienne shreds that I laid over top a romaine and spinach bed.  
We grilled up some chicken breast, let it rest for 5-10 minutes and slice it on the diagonal.
Garnish nests with any of your favorite veggies; cucumbers, grape tomatoes, and marinated artichokes, quartered.  Finish with quartered hard boiled eggs, lightly roasted asparagus spears and feta cheese and add my favorite go-to dressing, I whip up in my food processor.
Bird's Nest Salad with Balsamic Vinaigrette
Best Balsamic Vinaigrette is the perfect go to dressing.
Ingredients
1 Tablespoon Dijon mustard
3 Tablespoons balsamic vinegar
3 Tablespoons lemon juice
2 Tablespoons honey
1-2 cloves of garlic, minced
½ cup olive oil
Instructions
Mix well with a whisk or food processor.
Notes
Try red wine vinegar instead of balsamic vinegar for another classic variation.
Good-bye spring, hello summer!