Cinnamon Swirl Banana Muffins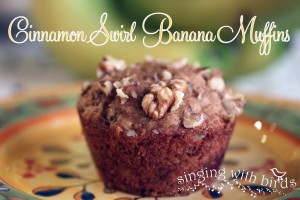 Look who's at Grandma's house and excited to share Cinnamon Swirl Banana Muffins with me!
After a fantastic 4th with all of my family, I'm back with lots of leftover ripe bananas.  My son-in-law, Will concocted a healthier muffin. Cinnamon Swirl Banana Muffins are low-fat, thanks to unsweetened applesauce, and lower-carb using stevia and almond flour.  Best of all these muffins are amazingly delicious. Yep, this one's a keeper!
Cinnamon Swirl Banana Muffins
Preheat your oven.  Mix up wet ingredients and set aside.  Make sure your bananas are flavorful and over-ripe, peel 'em.  Then mix dry ingredients and then combine the two, gently, not too much,  all together in a nice
mixing bowl
.  Spoon batter into a well greased
muffin pan
, top with nutty topping and bake and serve. Cinnamon Swirl Banana Muffins couldn't be any easier and they are so moist and delicious.
You'll end up with a perfect dozen wishing you had more…but if you're like me, you've got a few bananas over-ripening in the next couple of days.
Cinnamon Swirl Banana Muffins
Here's a great way to use ripe bananas and keep it low-fat. You're going to enjoy this healthier version with a sweet little swirl of yum.
Ingredients
3 bananas, over ripe, smashed
⅓ cup unsweetened applesauce
¼ cup sugar
½ cup stevia, (Stevia in the Raw)
1 egg, beaten
1 teaspoon vanilla
1 teaspoon baking soda
dash of salt
1 cup all-purpose flour
½ cup almond flour
1 cup chopped walnuts, divided
For the swirl:
¼ cup sugar
2 teaspoons cinnamon
Instructions
Preheat oven to 350 degrees.
Spray a dark muffin pan with non-stick spray.
Mix bananas, applesauce, sugar, stevia, egg and vanilla together.
Add baking soda and salt.
Then gently stir in flours and half of the walnuts. Be careful not to over-mix.
In a small dish combine sugar and cinnamon.
Fill each muffin cup ⅓ full.
Sprinkle with half of the sugar-cinnamon mixture and then add remaining batter, dividing between all 12 muffin cups.
Sprinkle with the remaining sugar-cinnamon and walnuts.
Bake for 15 to 18 minutes.
Remove muffins from tins while warm.
You'll go bananas trying to eat just one.