Low-carb Pumpkin Cheesecake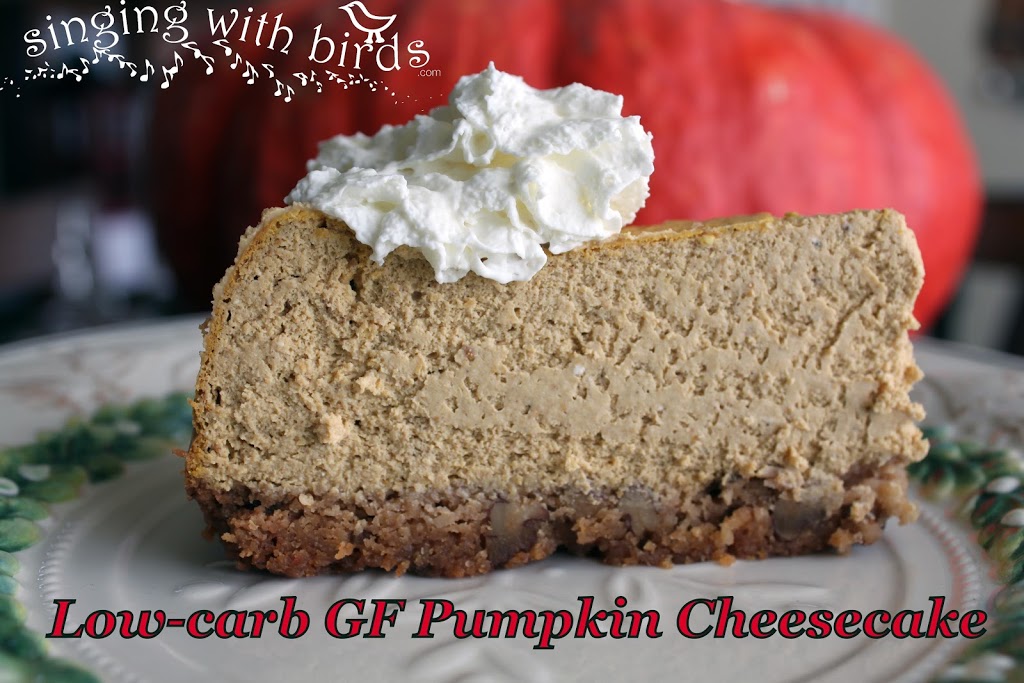 Are visions of sugarplums dancing in your head?  Low-carb Pumpkin Cheesecake will make all your dreams come true!
Low-Carb Pumpkin Cheesecake
So here's a divine low-carb, gluten free pumpkin cheesecake that will stand up to the best holiday dessert out there.  It's creamy, pumpkin-y and you know what makes it extra special?
It's the crust; nutty, flaky and tender.  Make it in 9″springform pan and chill it in the fridge.  Garnish with whipped cream, and take teeny-tiny bites while enjoying visions of sugarplums!
Low-carb Pumpkin Cheesecake
Ingredients
Crust:
½ cup butter, softened
2 cups almond flour
½ cup pecans, chopped
½ cup Splenda
Filling:
2 - 8 ounce packages cream cheese, softened
¾ cup Splenda or sugar
2 teaspoons vanilla
1½ cups canned pumpkin
½ cup sour cream
4 eggs
1½ teaspoons cinnamon
1 teaspoon ground ginger
½ teaspoon nutmeg
¼ teaspoon ground cloves
¼ teaspoon salt
Instructions
Set your oven to 350 degrees with the oven rack set in the middle.
Butter the bottom and sides of a 9-inch springform pan. Combine butter, almond flour, pecans,and Splenda. Pat crust onto the bottom of your prepared pan. Bake for 25 minutes.
While the crust is baking, make a water bath so the top of the cheesecake won't split as it bakes. Pour about 1-inch hot water into a shallow roasting pan big enough to fit the cake pan.
Beat the cream cheese, Splenda (or sugar) and vanilla in the large bowl of an electric mixer until the mixture is smooth. With the mixer on medium speed, add the pumpkin and sour cream and mix thoroughly. Add the eggs one at a time, beating between each addition. Add the spices and salt and mix to blend.
After the crust has baked, lower the oven temperature to 300 degrees. Pour the batter over the crust. Wrap the outside of the cheesecake pan with foil to avoid leaks, and then fill with pumpkin batter. Bake for 1 hour and 10 minutes, or until a knife placed in the center of the cheesecake comes out clean.
Remove from the oven and place on a cake rack. Allow to cool for at least 20 minutes before covering and placing in the fridge. This cake needs to chill for at least 2 hours before serving.
May ALL your Christmas dreams come true!