Pepper Steak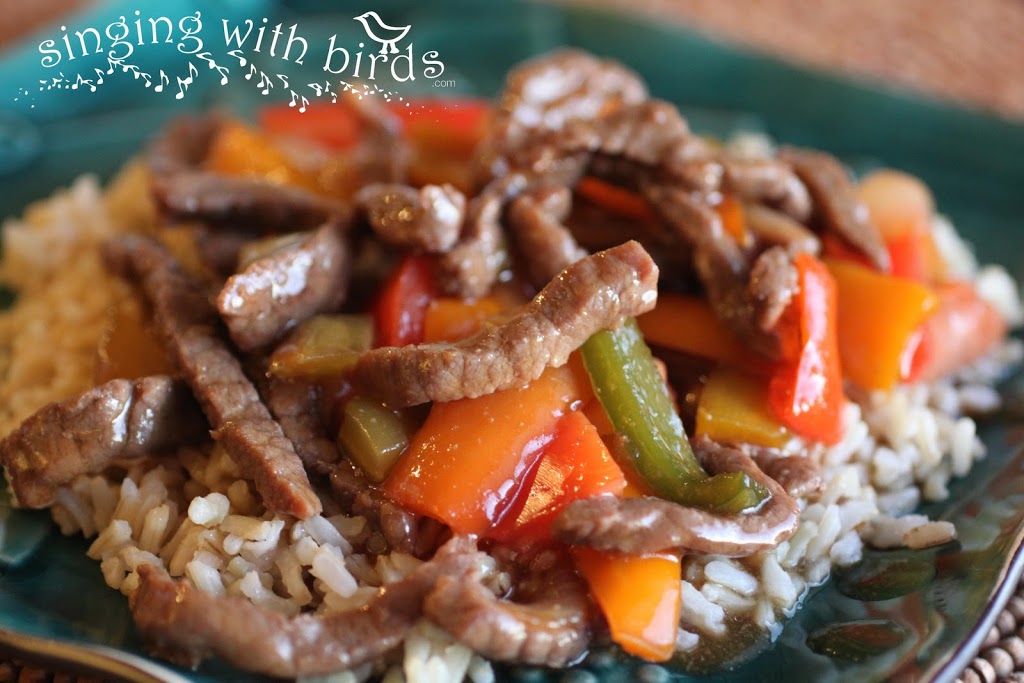 "Happy New Year" friends!  Can you believe it's 2012?  I'm anxious to share my Pepper Steak recipe with you, but first how was your holiday?
I'm hoping it was extra merry and bright and that like me, you are playing catch up after time with family and friends.  My amazing mom joined us for two weeks and we had a great time together.  She is a gift wrapping pro, chef and designer.  Imagine, she even packed her rubber-gloves!  Don't worry, I tried not to take advantage of her willing spirit.  We shopped and dined out and she even got to cheer for the BSU Broncos!
What a gift she is to me.  Thanks for all your love and help mom.
All of our children and grands arrived between Christmas and New Years.  We had a fabulous par-tay; lots of yummy food, late nights and precious little ones.  I'm feeling sweet misery, missing all 27 of them, washing sheets, towels, and putting our house back together!
Pepper Steak
sounded like an easy fix with brown steamed rice for dinner last night.
Fire up your wok.  Pepper Steak is so easy to chop and stir-fry steak and veggies together in a tiny bit of oil in a flash.
Be sure to serve healthy, nutty, brown rice with it.  This truly is a 30 minute meal!
Pepper Steak
Forget take-out, Pepper Steak is a snap to prepare. Just chop, chop, chop and stir-fry with a yummy sauce. Before you know it, you will have a healthy, delicious meal.
Ingredients
3 pounds boneless steak
1 large green bell pepper, sliced
1 large red bell pepper, sliced
1 large rib of celery, sliced
1 onion, chopped
2 medium tomatoes, cut in wedges
¼ cup soy sauce
2 teaspoons Better than Beef Bouillon (or bouillon cubes)
3 cups warm water
2-3 tablespoons cornstarch
Instructions
Slice steak in thin strips on an angle.
Slice and chop peppers, celery and onion. Cut tomatoes into wedges.
Stir soy sauce, bouillon, and water and add to cornstarch. Mix till smooth.
Add a small amount of oil to a wok or dutch oven.
When hot add steak and brown well. Add peppers, celery and onion, stirring and turning till tender crisp.
Add liquid and stir till it thickens.
Add tomatoes, only heating through.
Serve over steamed brown rice.
Wishing you lots of good luck in the new year!