Curried Fruit Bake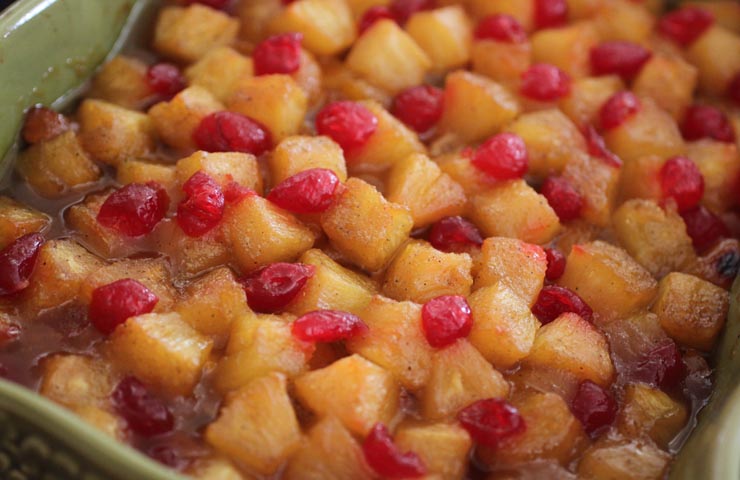 Curried Fruit Bake is a sensational side dish.  It's colorful and luscious especially along side ham, turkey, chicken or pork.  I used to spend time scoring a ham and adding cloves, pineapple, and glaze to it.  When I serve my ham with curried fruit, all of that prep on the ham isn't really necessary.
Curried Fruit Bake
The key to making Curried Fruit Bake successful, is draining the fruit really well. I actually let my fruit sit in a colander in the sink for a couple of hours while I'm doing other things.  Then all you have to do is cut the fruit into bite size pieces, layer it in a 9×13″ baking pan, make the sauce and pour it over the top.
This can all be done the day before you'd like to serve it.  Just cover and chill it in the refrigerator.  I'd suggest you bring it back to room temperature before you place it in the oven or add some extra bake time to it to make sure it gets bubbly and lightly brown around the edges.
Here's all you need to make it.
I like to drain my pineapple chunks separately and save the juice for something else.  I drain the peaches, pears, and apricots in a big colander.  After a couple of hours, I spray my casserole dish with some non-stick spray and then layer the fruit.
Next melt the butter, then add curry powder, cornstarch and brown sugar.  Stir over medium heat until the sauce becomes thick and bubbly.
Spoon the sauce over the fruit and bake at 350 degrees for 1 hour uncovered.
 The fruit will caramelize and be light brown around the edges after baking.
Try this with a Christmas or Easter ham.  It's wonderful with pork or poultry too.
Curried Fruit Bake
Curried Fruit Bake is a perfect accompaniment to holiday hams, turkey, chicken, or pork tenderloins too. It's colorful and pungent with a beautiful caramelized curry sauce.
Ingredients
1 large can pears
1 large can peaches
1 large can apricots
2 cans pineapple chunks
15 maraschino cherries, halves
½ cup melted butter
¾ cup brown sugar, packed
1-1/2 teaspoon curry powder
1-1/2 tablespoons cornstarch
Instructions
Drain all of the canned fruit for very well.
Cut in large chunks and layer in a 9 x 13 casserole dish. Place cherries on top.
Combine butter, brown sugar, curry powder, and cornstarch.
Pour sauce over fruit and bake at 350 for 1 hour uncovered.
What's your best side dish and what do you serve it with?
We love having you here.  Let us know what's going on in your cheery kitchens on social media please.